Have you ever wondered why you feel like you can breathe easier, concentrate better, and just be happier when you're in a room with a lot of plants? These benefits, it turns out, have existed long before our newfound love for greens. Plants are in the spotlight right now. Interiors with leafy vines, hanging plants, and spunky succulents lift their dullness very gracefully.
Plants are possibly one of the most aesthetically pleasing items in any home. They are pleasing to the eye, good for your wellbeing, and go well with any form of home decor, whether minimalist or rustic. Another benefit is that they are inexpensive. You'll pay very little money while getting a lot of benefits.
Plants have become a must-have in today's design schemes. Houseplants can help us live better lives in a variety of ways, from improving the vibe around us to speeding up the healing process.
There are many more pros of decorating spaces around with some indoor plants:
Carbon dioxide emissions are reduced
The humidity level is increased
Benzene and Nitrogen levels are reduced
Reduces the amount of dust in the air
Lowers the air temperature
Read More 5 best indoor decorative planters
The numerous advantages do not end there. Plants provide a naturally calming and stimulating atmosphere. They improve one's sense of well-being while significantly lowering stress and anxiety levels. Plants in the home are like having a piece of nature into your personal space. You will definitely be proud of yourself once you make your decision of incorporating plants into your home decor schemes.
Now let's talk about how to make the most of plants to maximize their possible aesthetic value, as well as some plant-growing advice. It's not rocket science to decorate your home with plants. It's very simple because plants are extremely adaptable. They can blend in with any setting or corner.
From the varied range of available indoor plants like Money plant, Snake plant, Spider plant, Peace lily you can pick your favourite along for the stated reasons. Don't forget to pick designer indoor pots to perfect a pot cluster for your indoor spaces!
Plants need a lot of care and attention, the foremost thing to look after is the quality, shape, and size of the planter which you wish to choose for them. Improper planters can create lots of hurdles for plants to grow effectively. To save your indoor plants from some unavoidable mishaps, beautiful artisanal pots by Bonasila can be of great help. These will add a touch of class to your indoor spaces, and they can be used to complement or enhance the appearance of your plants.
A collection of different sized pots or containers, in different designs, with a variety of plants, is a unique way to add a personal touch to your indoors and help in forming the perfect pot cluster as well. These Designer indoor plant pots can be tailored to suit your style and add that extra special touch. The great thing about creating a cluster of small indoor plant pots is that you have the flexibility to change your interior space's design. Plants, angles, position and pot design can easily be adjusted as and where needed!
The pots you select, as well as the plants you choose and how the planting combinations interact, all contribute to a great pot cluster. You should keep your focus on size, choosing small indoor plant pots for small plants and working your way down from there. To go for plant pot clusters, here are the options that you can look out for, based on:
1. Colour Combination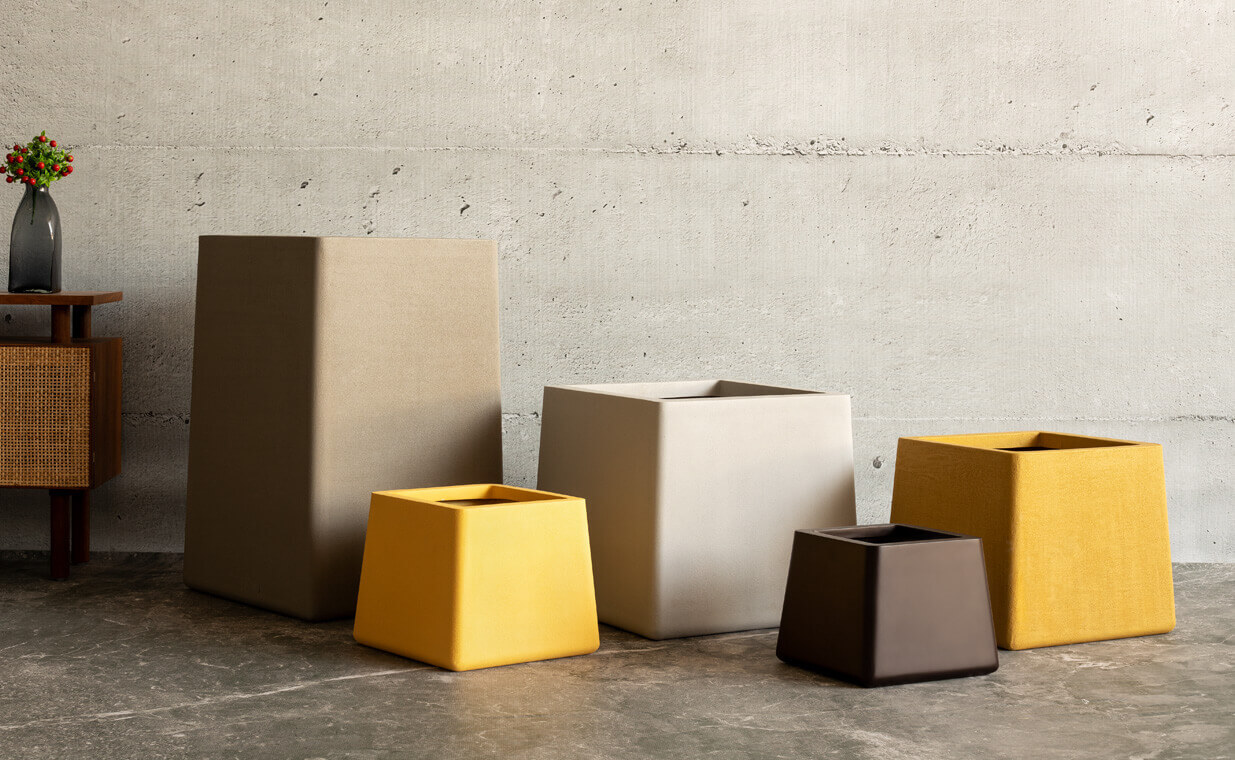 You can go for clusters based on the choice of your preferred colour combination. If you like to have a colourful aesthetic all around, with a chic vibe and a very distinctive set of planter sets around, you can choose colourful planters to sparkle up space. On the other hand, if you are a retro fan and you like simple shades with a direct message, then black and white can be your go-to shades! To get such unique and resistant house plant pots with loads of varieties, contact Bonasila planters. Red, blue, green, yellow, basically, any colour of your choice! You can get it customised and also get dual-coloured or tri-coloured combo planters. You decide, we execute!
2. Based on Shapes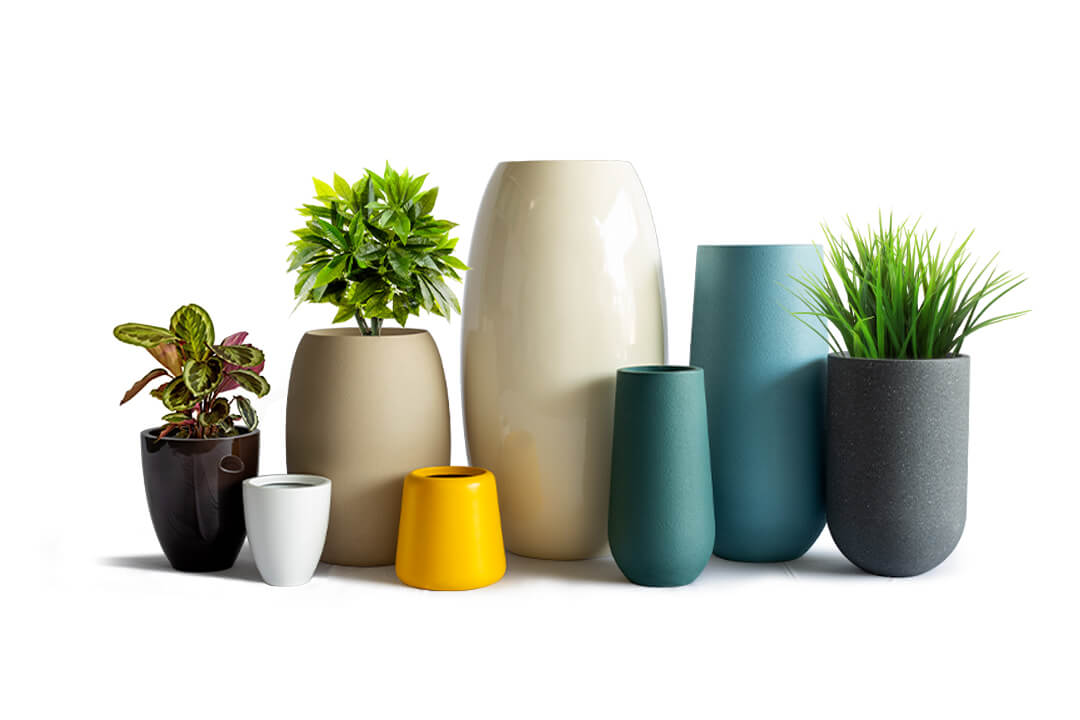 The best part of keeping these plant pots would be that you can easily mix and match them with different shaped planters along. A wholesome look that can be portrayed with minimalism. The shapes can be any, you can keep a trapezium pot with round table-top planters, you can combine rectangular edged pots with oval-shaped pots to add a sense of playfulness and class around your corners. Keeping geometrically inspired planters can be very inspiring and shall display a perfect timeless look.  For example, you can go with Bonasila's exclusive planters like Pento, Ovalio, Rezelo, Moso and many more. Briefly, let's get to know how arranging these planters together in clutter can bring back a charm to your place.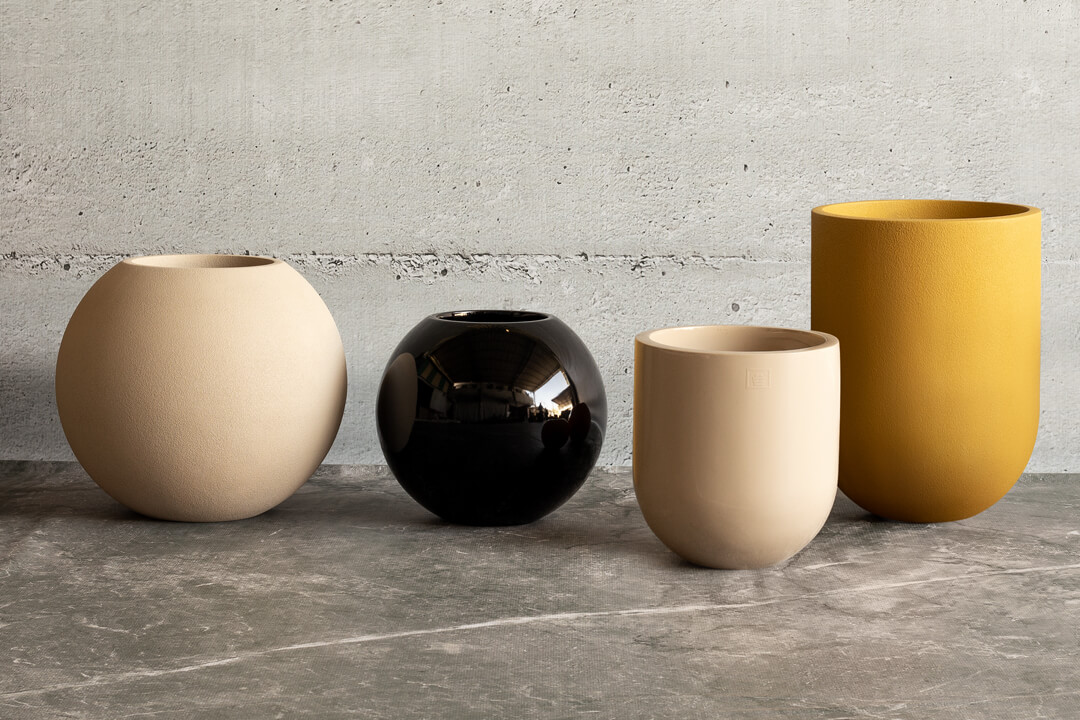 Leppo is a  beautiful planter formed with classy and simple textured designs. It is the perfect example of elegance. You can place them around your lobby, living room etc. They have a smoothly-built structure to bring in a sense of peace. You can combine this with Ovalio, which as the name suggests, has an oval-shaped pattern with a calm, soothing and refreshing appeal. You can place these designer indoor plant pots together to get two different yet positive vibes from the perfect round curved design statement. A combination like this will give a lasting impression on someone's memory because of its composed presence.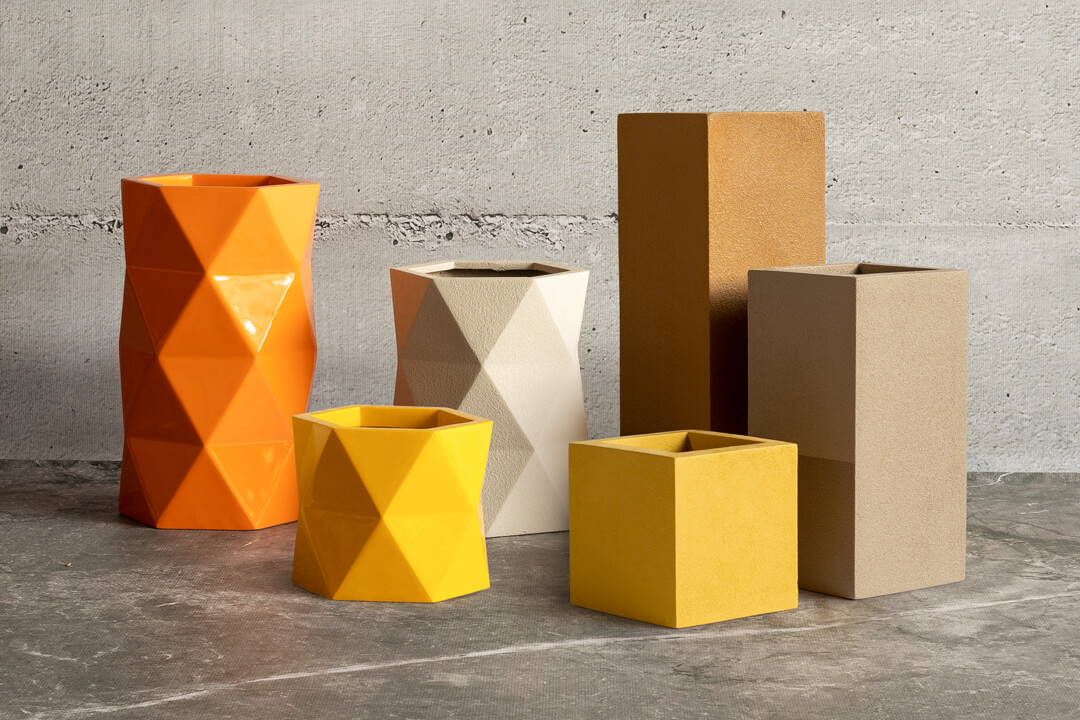 Rectangular planters online like Rezelo come with exclusive artisanal patterns that are surely going to make you pick them. This modern planter can be your priority when it comes to decorating your living room or your office reception space with unique patterns. These designer indoor plant pots have a very thick coating which provides safety and stunning durability. When Bonasila's rectangular planters are combined with dual-geometric shaped planters like Conza, the combination becomes an unquestionable pair, just made for each other! Conza, with its minimalistic and subtle aesthetic designs, promises to pour excitement to your ambience. In this green journey to bring you close to nature indoors, this planter will support you throughout when placed along with any other planter. The cylindrical base  of these planters along with triangles embedded on it, will add a touch of life to your space. This is just the right pair for geometry admirers. 
3. Based on size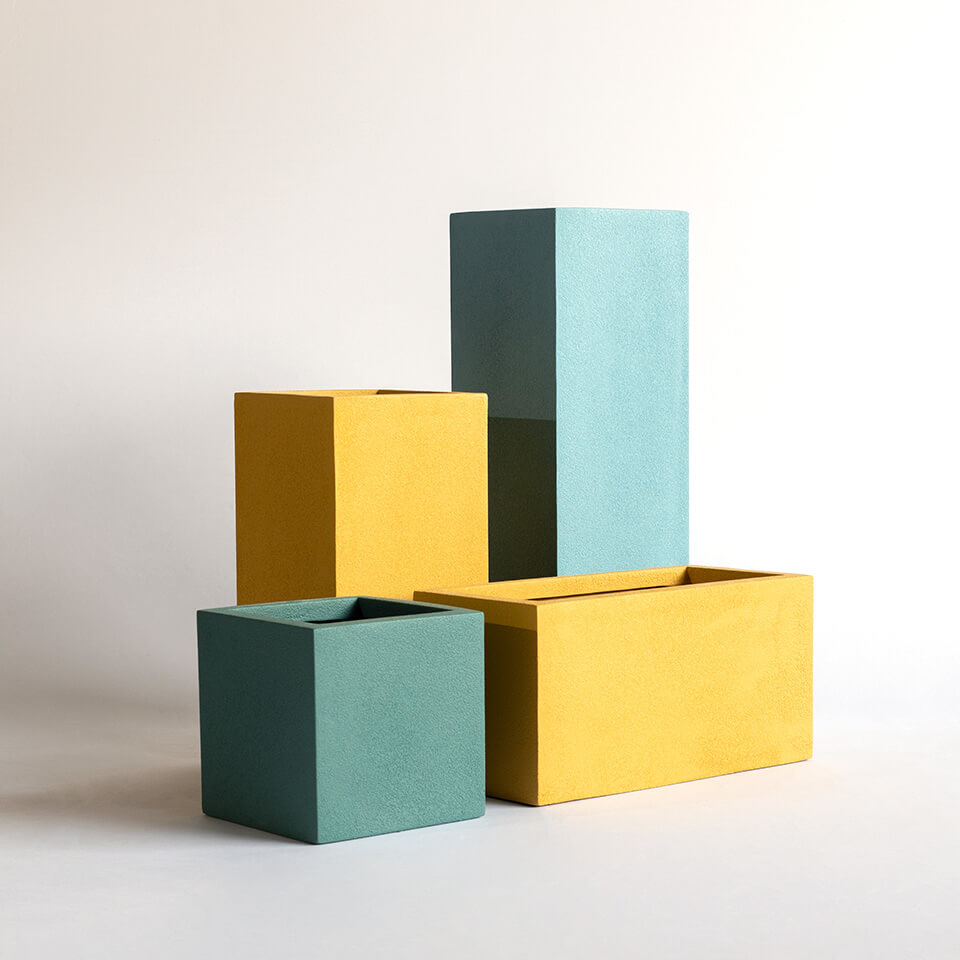 Wonder what it would be like to arrange a whole planter family around? That's right, you can put one particular type of planter, say a recto collection planter with different sizes all along with your beloved place. It can be your dining area, your bedroom, your living room space, near the entrances, your coffee table, or your study table.
A small set of these planters with small to very small sizes would fill in your space very elegantly with no loudness! You can place such small-sized planter pots which are very lightweight, reliable and that will give an uplift with its crispy yet sleek edges, wherever decorated with! 10-inch, 12-inch, 24-inch, you will be surprised to find the variety of sizes that Bonasila crafts.
So, do you dream of making a plant-filled area to look up to? Are you still unsure if you have space or time to maintain your lush greens? A small plant with a desired planter may be the perfect solution in this case. Bonasila planters are like miniature gardens that can be placed anywhere they are needed.
With a simple planter, all of these spaces can be transformed. Now that you know that a planter can be a great addition to your office space as well, why not test one out in a bright area and see what difference it can make? Yes, flowers and greens beautify your surroundings, but an apt planter gives justice to their beauty and completes them in a dignified manner.
With adopting great plants, comes great responsibilities and as part of that, a greater planter always helps! To buy such elegant, exclusive yet simplified plant pots online, you can trust Bonasila with their craftsmanship and their unique detailing scheme along with the FRP material that we use. We are one of the largest leading fiber pots manufacturers in India that go above and beyond to make sure that no planter quality is compromised and that the durability stays along or times to come, throughout any season and at any place! We, at Bonasila also provide a variety of Fiber-Reinforced Plastic planters that are sure to enhance the beauty of your plants.
Our planters were purely created to revolutionize the fiber planter idea. Our in-house team of skilled designers carefully designs these fiber-reinforced planters. These FRP planters are lightweight, water and frost resistant, and equipped with an excess water management system that makes it easy for you to maintain them. As listed earlier, these come in a variety of colours, sizes, designs, and finishes. So, get the perfect better half for your plants today with Bonasila. Get all your queries and concerns resolved by contacting us without any hesitation. India's Fiber Planter Specialist is just right here for you!
Tags: designer indoor plant pots, Indoor Planters, Indoor Pots