Today, we decided to come up with something very interesting, which we are sure if many of you are aware of. Buckle up plant lovers, you are going to love this topic in particular! Apart from the usual gardening methods that we follow, there is this very refreshing and unique form for you to practice. This is called water gardening. 
What exactly is water gardening?
As the name suggests, this form of gardening takes place in water! You might be surprised to know that this form of gardening is not new. This has existed since long ago, the Mughal's era. You might have gotten a chance to see them at Mughal gardens since they have the water feature present. The simulation of a natural landscape with water around by proper planning and use of various plants is called water gardening. This is very helpful in breaking the monotony of a large landscape. Such garden forms have become popular in the contemporary style of gardening.
A water garden has a variety of designs and planting options that make them stand out. Apart from the Mughal gardens, the Japanese gardens also use water as a very essential part of their gardens and also put the koi fishes in them.
Why and where can you design them?
If you are looking forward to adding beauty, movement and a little sound to your garden, this can be the one! Water adds coolness and calms the surrounding areas. It is very impactful in uplifting the beauty around it. Also, having a water garden is the best combination of getting motion and sound of water together. The flow of water charms and soothes the witness and helps in stimulating imagination. Hence, you can try to design them in a natural water body or create an artificial one on your own.
However, if you plan to make one near your living space, seeing them daily will add more pleasure to your eyes. Just make sure that for your water garden to sustain longer, it should get exposed to at least 6 hours of sunlight. This will help in a healthier way of growth for the plants. Just make sure that your water garden is NOT placed under a tree, since it will attract a lot of dirt and can turn out to be a barrier to healthy plant growth. Also, make sure that a very high location is avoided. This will cause the formation of algae around your plants which is not good! Hence, we advise you to wisely choose the location for a hindrance-free beautiful garden.
How can you build the water garden?
Opt for a suitable area in your living space. Make sure that the sunlight hours match as stated above.
You can choose to make it easy with the help of garden pots. You can find the apt pots with the help of Bonasila.
FRP planters would be a good choice since once you keep them out on your lawn, you won't have to worry about them. They are weather-resistant, water-resistant and are very durable and lightweight. In case you feel like changing the direction of these pots, you can easily shift them. For example, You can check from the wide range of garden pots and go for Tagaro or Pothos.
Tagaro is a mesmerising planter. It's wide opening as a bowl structure makes it aesthetically appealing. With careful polishing, this planter can be used later as a stunning piece of home decor. It promises stability and reliability. This is one of the best planter pots that can be used while creating your customised water garden. If you specifically want to grow water lilies, then you should go for tagaro.
This classic box shaped planter is inspired by everyday shapes and lines. With the round edges and finest crafting, it is perfectly suitable if your surrounding has a modern design theme. There are various sizes available for this planter. You can choose small, medium or large, depending on your lawn size.
When you think of buying some garden planters online, Bonasila's pothos can be your perfect match. Their shape and texture can compliment your space perfectly and also help in beautifying it more. You can pick any size of your choice based on your lawn space.
Their cup-edges and smooth textures will help in enhancing the space around you. These will make up the perfect water garden pots. For more details, visit our 'Newo Collection'.
Now, we suggest you use floating water plants. By doing this, you would not have to use the soil. Such plants make sure that they get their nutrition from the water directly. You can go for plants such as water lettuce, water lily, water hyacinth etc. To further make them more heightened or change them visually, you can place these large round outdoor planters on the top of some rocks and raise their height. Use such plants to avoid algae formation.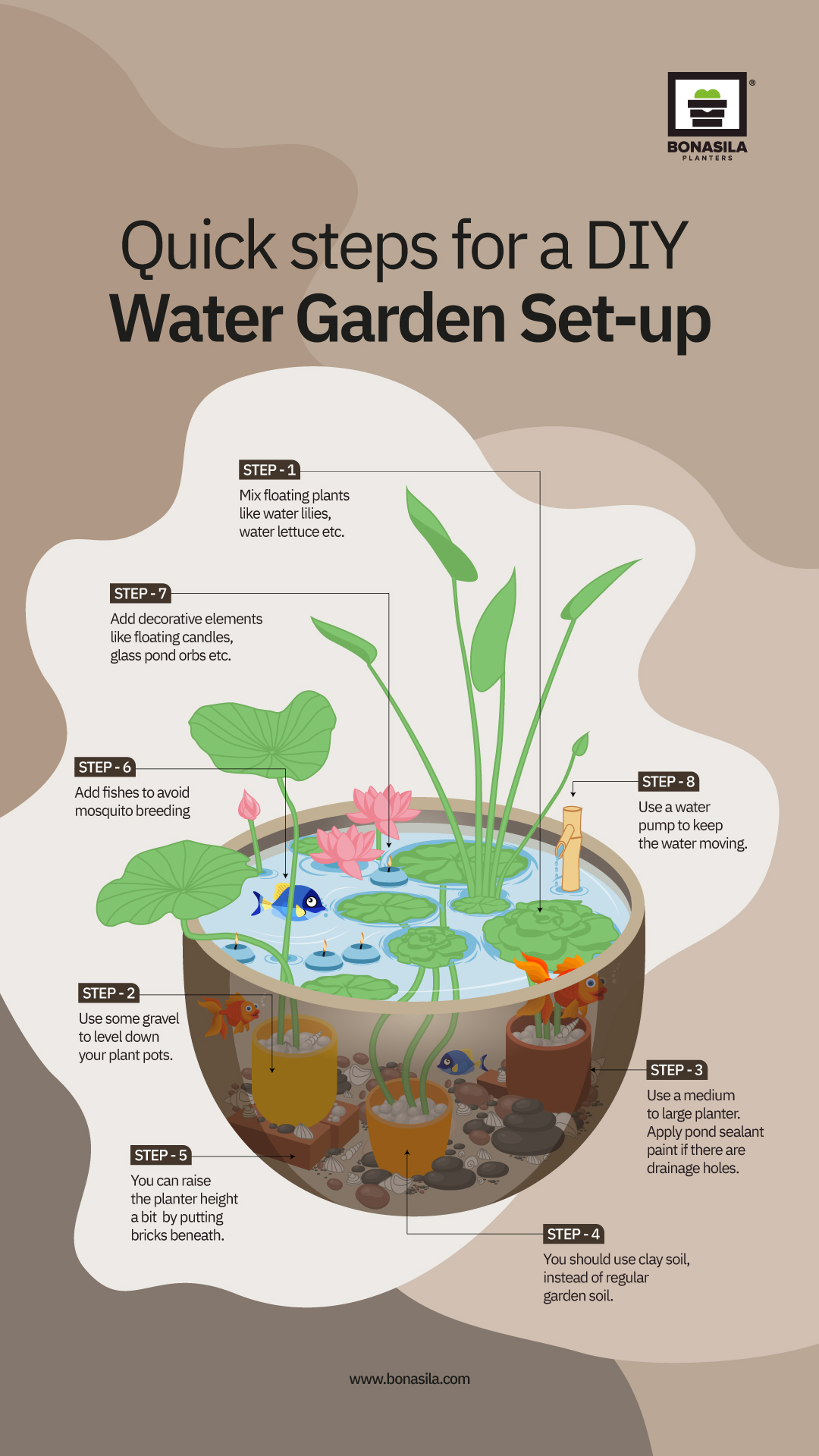 Now if you love water, you might as well be a big fan of fish! We suggest you put some fish in your water garden since they will help in preventing mosquitoes from your beautiful space. You can go for fish like goldfish, rosy red minnows in your water garden. They will compliment your water garden if you plan this step wisely. Also, make sure that you pour in the fishes after at least 3-4 days of creating this space, make sure that the chlorine in the water settles down so that the fishes stay safe.
You can also consider decorating your water garden with some floating decorations like candles, miniature statues, floating LED lights, glass pond orbs etc. This will give a different look altogether. You can change the decoration from time to time and play with your creativity.
To have a proper PH level balance of the water, consider putting oxygenating grass in your plant pond. This grass stays beneath your water garden and many-a-times happens to float on the water surface. This will give a good artistic touch to your splendid planter water garden.
You should use a water pump kit to keep the water moving, this will earn bonus points from mosquito breeding on this water heaven of yours.
Such water gardens require very low maintenance. You just have to make sure that there is enough water in the garden pots and that the water stays clean. During winters, try to shift them inside your house to avoid water freezing. Further, do keep adding fertilizers to the soil. Finally, your love and patience will pay you in return with an amazing, exotic and stylish garden.
Why Bonasila planters for your water garden?
We at Bonasila, India's leading garden pot manufacturers, are truly inspired by almost everything around us. Unique designs make us curious and stimulate our creativity. Our one-of-a-kind planter range with its striking shapes, size and weight promise to elevate the look of your dreamy garden space, while the luxurious patterns blend in easily with the ambience. Each of our planters makes sure that they respect the norms of elegance and that the aesthetic sense is raised. With their presence, you will experience that your space will have recharged energy and freshness. You will discover efficiency and reliability every day with Bonasila.
Our Fiber Reinforced Plastic (FRP) materials are not just mere objects, they are much more than that. You can try it for yourself and know what makes us one of the best garden pots manufacturers in India. FRP planters are best due to numerous reasons, a few of them being, lightweight, durable, and reliable. Let them help your plant babies to grow and sustain well.
Don't wait! We're just a call away!
If you are thinking of finally designing a water garden for your space, we suggest you buy some pretty planter pots for the same. We are just a call away to guide you more about this process and for any orders. Without any hesitation, you can reach out to us on 9265077632 from 10:30 AM to 7:30 PM (IST), Monday to Saturday. Our team will be more than happy to guide you through your order. So, make it happen! A beautiful water garden with Bonasila.
Word of Caution: Your children and pets need to be taken good care of around the waters. With water, comes a potential risk of danger too. If there are chances that your pets and children would be in your lawn or garden area without any supervision, we request you humbly to consider incorporating a water garden plan very cautiously. After all, prevention is better than cure.