Home is a beautiful place and decorating it is a matter of joy for everyone. Home is not just the walls and a roof put together. There are many things that make home a home. A house & its design is often a reflection of a person residing in it.
Whenever you enter a few places, you can't simply take your eyes off. Getting mesmerized is very natural when you enter such well organized and well-thought spaces. Well, the decor and design make all the difference. Plants are also an important part of the design & decor process. With the emergence of fiberglass planters, plants are now being included in the design process in very innovative ways. These planters not only paved the way for more plants to be included in the design process but also explored the different dimensions of design and enhanced the decor themes of houses. In this article, we will be walking you through the five such different planters by Bonasila that are a must on your decor list. So, if you are planning for your house makeover, this is the article you needed. Before jumping right into the list of five planters, let's know a bit more about these planters.
The beauty of fiberglass planters
For a very long time, planters were looked at from a utilitarian viewpoint. Hosting a plant was the only job of planters. Modern-day planters however serve a dual purpose. While hosting a plant, a planter also brings aesthetic beauty to a space. That's what makes these planters different from traditional planters. These planters are made from Fibre Reinforced Polymers and hence the name FRP planters or fiberglass planters. The material offers flexibility to designers to try out different design moulds. So in the case of these planters, you will get to see a wide range of designs. This variety of designs allows you to select a planter that can complement your design themes. We at Bonasila, offer the largest collection of these planters. Here is a list of five fiberglass planters that are a must-have on your decor list.
New definition of simplicity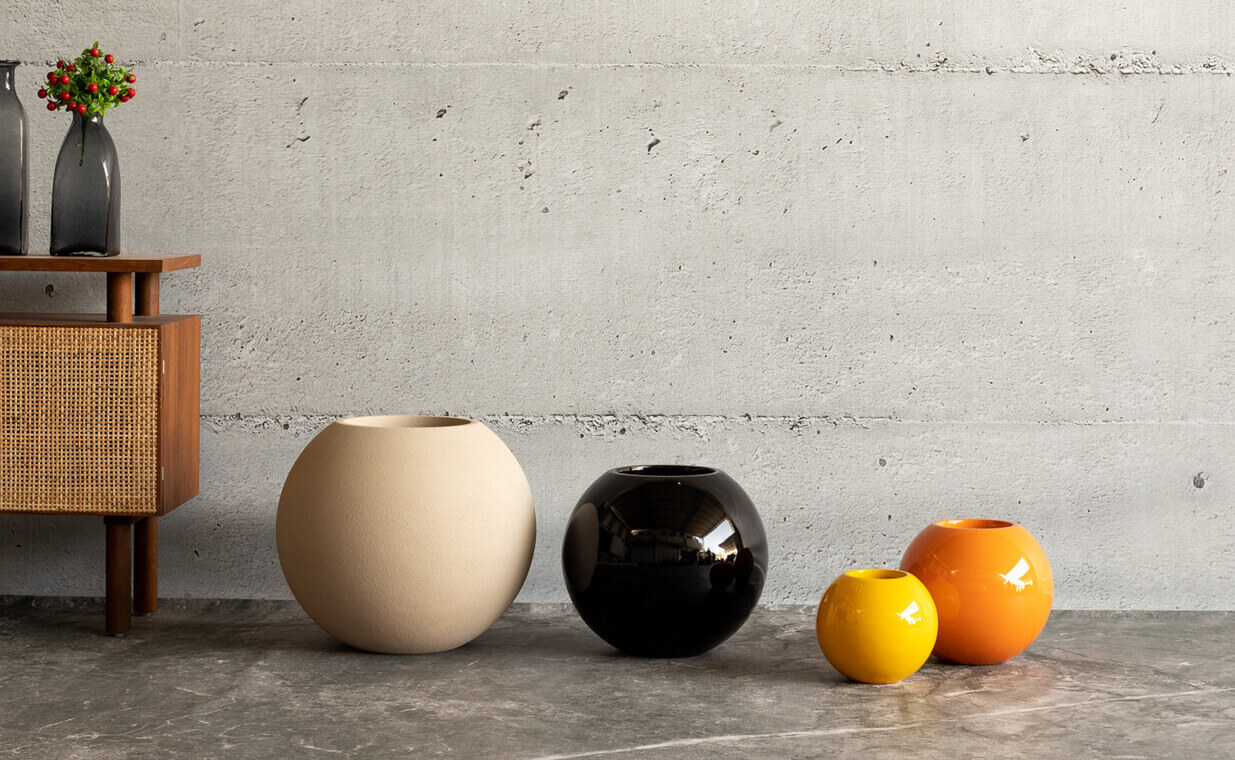 Ovalio is the first on the list of these fiberglass planters. A planter that redefines the definition of simple spherical design. It follows the basic geometry of a sphere that brings together the sense of simplicity. Its sleek finish leaves an impression in the minds of people who watch it at the very first glance. Ovalio comes in four sizes & you can plant small to medium-sized plants. This planter is good for indoor as well as outdoor settings and can seamlessly blend in with most design themes. You can place Ovalio in meditation halls, entrance lobbies and living rooms etc.
The elegance of sharp edges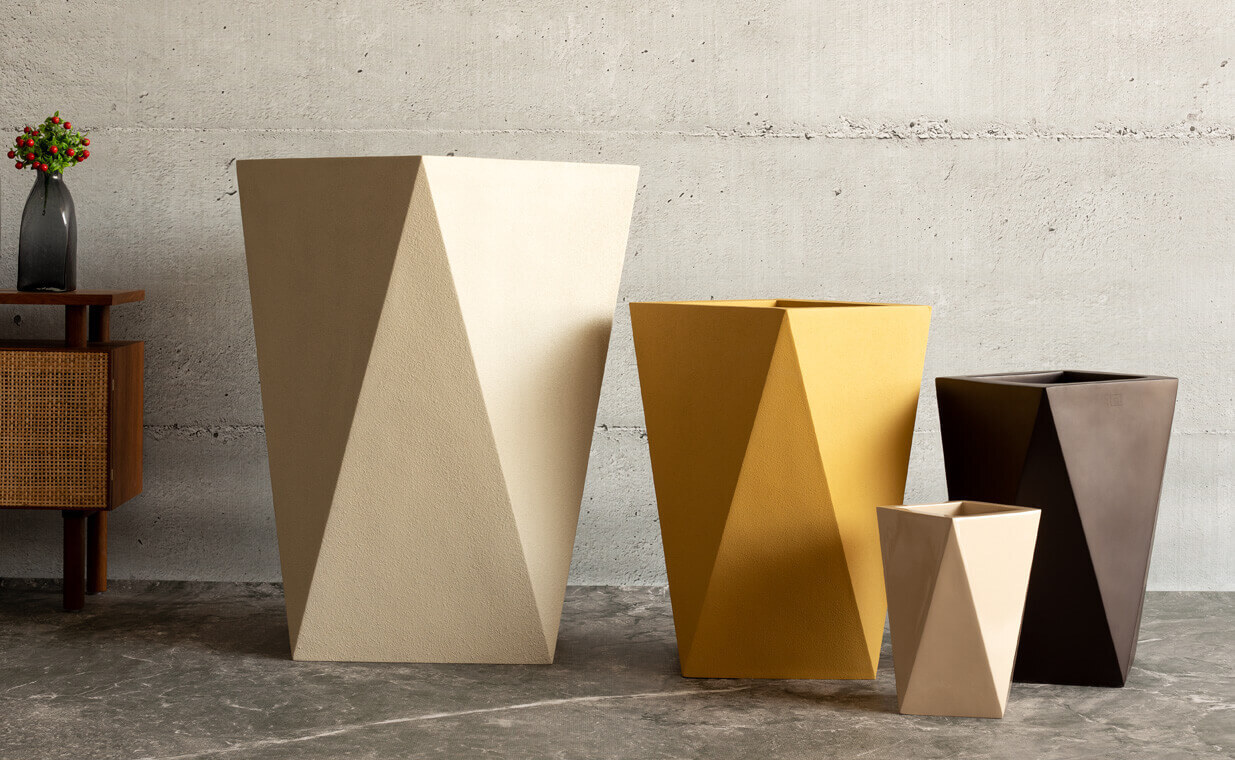 The next one on the list of our fiberglass planters is Remino. It comes in four different sizes and it is an ideal planter for medium to large-sized plants. Remino 15, 24 & 30 are ideal for indoor settings whereas Remino 42 can be a good choice for outdoor settings. It is capable of growing large plants that can grow tall.
It's a preferred option of many landscape artists and designers as it goes well with minimalistic interior design themes. To style this planter in your interior you can opt for size 30 & use it as an independent standalone planter. Alternatively, you can club size 15 or size 24 planters in a pair or group of three and host the plants of your choice. This planter is more suited for living halls or the shared spaces of your house.
Choose a colour that blends in your surroundings & you are good to go.
Triangular beauty with a Twist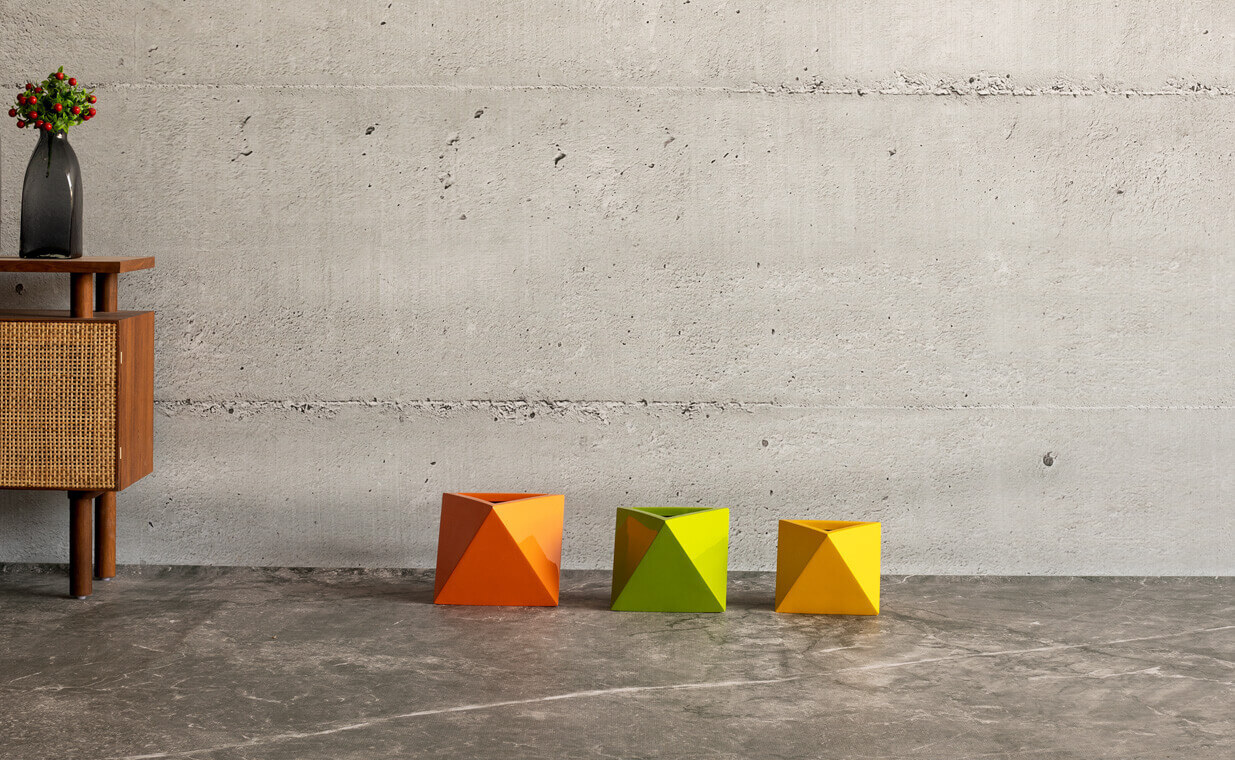 Some designs cross the barriers of imagination and mesmerize with the thought that has gone in the design. The planter that we are discussing has topped the list of luxury planters. At a glance, you will see this planter as a twisted triangle that is standing firm. Atia's design brings out a sense of refined richness and never fails to impress. This planter comes in three sizes and it's essentially an indoor planter. All those small succulents that are perfect for your work desk or reading tables, Atia 7 & 10 sizes can host those cute little plants. We have observed that size 15 is preferred widely as a standalone planter for side corners. This planter is mostly preferred for professional settings, however, some of our customers have chosen this planter for their homes as well. If you are a fan of geometrical designs, then this one definitely deserves your attention.
Magic of Linear Symmetry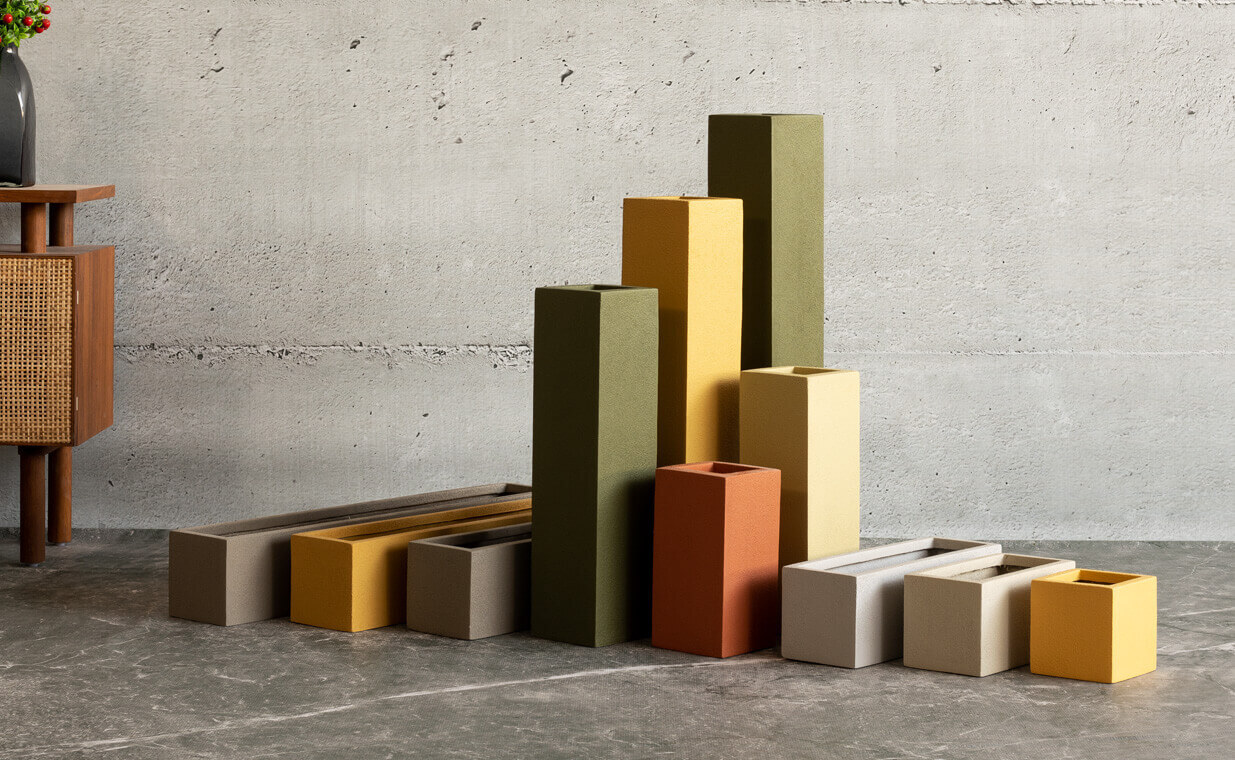 The list of indoor planters & outdoor planters can not be complete without the mention of this iconic planter. Rezel is a planter that brings a sense of height. The best thing about Rezel is that it can be adopted in all kinds of surroundings. To put it simply, you can place a Rezel on your terrace hosting golden bamboo or you can keep a smaller type at your entrance. You can also keep this planter near your TV panel walls. Its square-linear design makes it easily suitable for walkways & lobbies.
This planter comes in five different sizes. You can pick your size based on how you want to incorporate it into your design themes. The versatile nature of this planter makes it one of the most preferred indoor planters & outdoor planters.
The Unmatched Classiness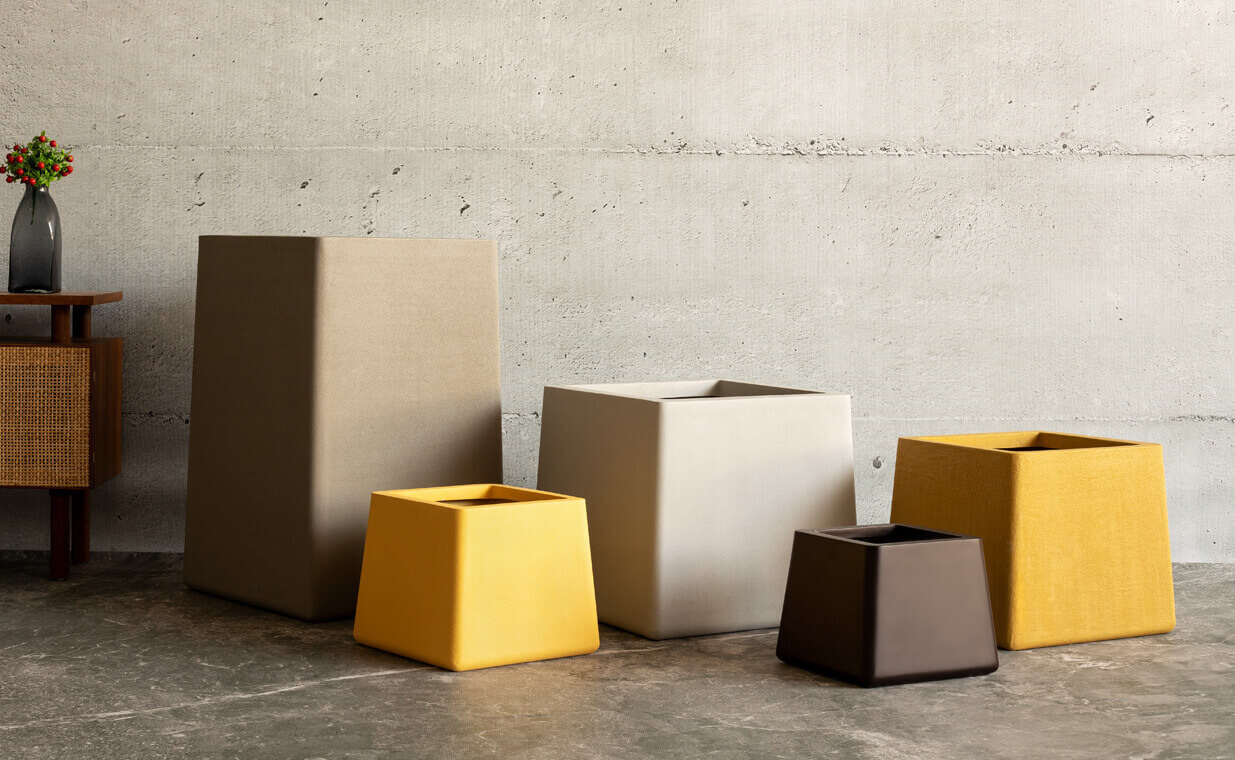 Bucciro is a planter that represents classiness. Inspired by the classic box shape, the smooth edges & straight lines of Bucciro gives a fresh perspective. It's a standalone planter and it's a good choice to host firm & strong plants. It can be positioned in the common as well as private spaces in your home.
Available in five different sizes this planter is used in both indoor and outdoor settings. Size 12, 14 & 18 are great for growing medium-sized indoor plants, whereas 22 & 36 are able to host large sized plants in outdoor settings. For your outdoor garden, you can grow tall palm plants using larger sizes. The simplicity makes Bucciro one of the classy luxury planters.
Explore Your Options
Designing your house is a long time project. It will need several iterations of trial and error. You can consider complimentary decor items such as wind chimes, wall hangings, nameplates, decor lights etc. The list of planters that we explained here is indicative & we encourage you to visit our website to explore more planters. We offer a wide range of designs & we are sure that we have a planter that you are looking for. All it takes is a visit to our website to explore a range of planters of vibrant colours, textures and finishes.
Bonasila is a popular name for designer planters India. Our planters are widely appreciated and loved. The automotive-grade colours that do not fade, the innovative designs that leave their mark & the service that creates a delightful buying experience are some of the key reasons behind this.
Buying a Planter? Buy it from the Experts
Our founders are designers with more than 20 years of experience in the industry. Our planters are a result of their expertise and passion for their love. Similarly, our craftsmen who bring our designs to reality are the real magicians behind our planters. Each of our planters is an end result of the finest work of our designers & our artisans. So next time when you see a stunning planter, you will now know who is behind that art piece.
To buy our planters you can call us on 9265077632 & our team will assist you throughout the process. You can also visit our website and fill in your requirements using the inquiry form. If you are one of the institutional buyers, who have specific requirements of shapes and sizes, we would like to hear from you and help out. Our team of enthusiastic representatives look forward to helping you right from finalizing your planters to buying the planters. What are you waiting for? Visit our site & buy your planter today!
Got something to say? Speak up
If you have something to say, we would like to hear it. You can write to us or join in the comments to voice your thoughts and opinions. Your consistent suggestions and recommendations help us in improving the quality of our service & we are able to serve you better. This is what makes us one of the leading FRP planters manufacturers. Share your experiences & transformation stories with our planters & we will be absolutely glad to see those stories. If you think that there are any possible areas of collaboration, please ring the bell.
You can join us on social media platforms to stay in tune with the latest updates from Bonasila. If you find this article useful, you can consider revisiting this space, where we keep bringing useful content related to design, decor and plants. Bonasila community is a place for like-minded people who enjoy gardening, plants & design and we welcome you to be a part of it.
Your home decor project is started & we wish you all the best of it. Don't forget to tag us when you share your home transformation stories on social media platforms.