Home is a place to go! No matter how stressed or exhausted you are, a cup of coffee while sitting on your favourite armchair & listening to calm music can set your mood. There might be better places, but nothing beats this feeling. You ever wonder why? It is because nothing can replace home.
There might be hundreds of places for you to go, but this is a feeling that you can not get anywhere else. Every design element in your house has a certain aesthetic & functional value. Right from your decor articles to your plants & decorative planters, each thing adds to your surrounding.
That ambience, the familiar aroma and the things around connect you with your home. You share an emotional connection with your house. Styling your house can be a daunting task as there is a lot to figure out. If you are also planning to undertake this task, then this is the article you were looking for.
Why Decorative Planters for your living rooms?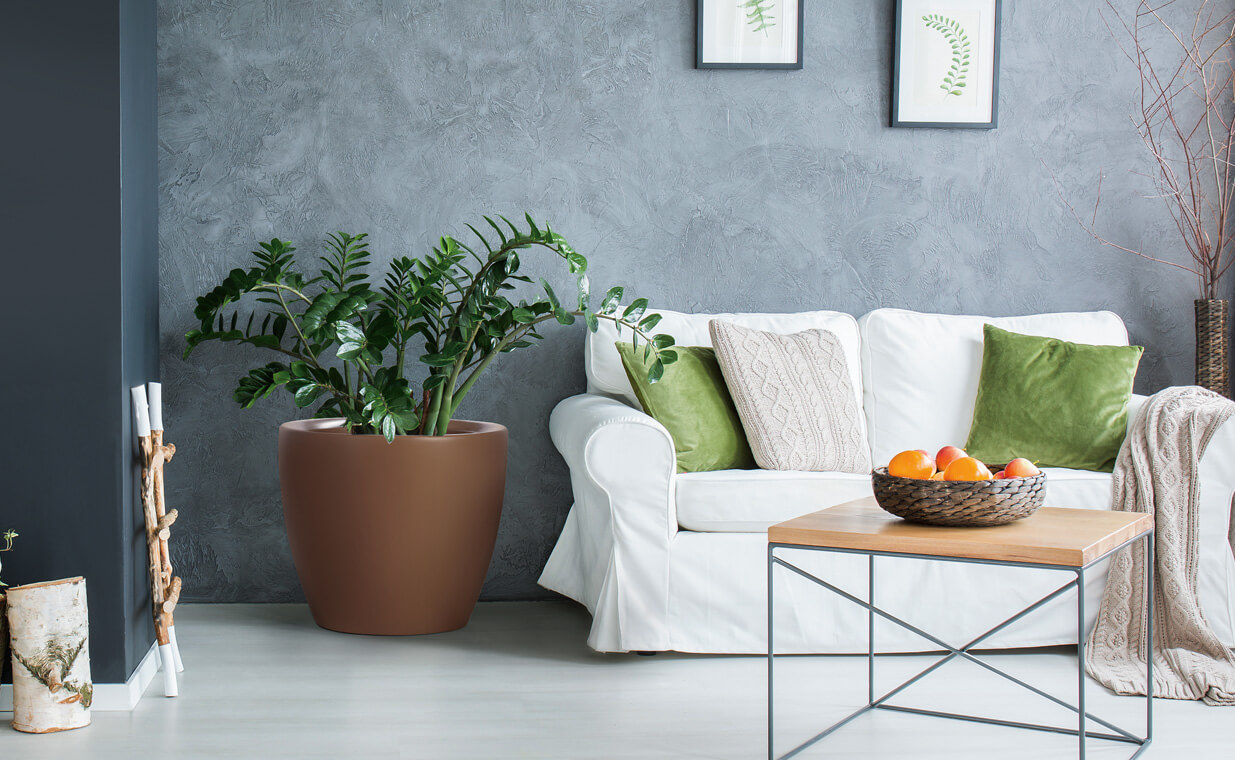 A living room is a shared place for your family where you spend most of your time. It's a place to sit back, relax and engage yourself in recreational activities. Thus, the ambience in your living room matters. Surrounded by the concrete jungle & deeply entangled with our gadgets, most of us are trapped up in houses. There is a longing for the elements that remind us of nature. This is why having plants around you helps.
Plants bring energy to your house. Have you ever experienced this? If not, then try this out. Get some tiny indoor plants and keep those with tabletop planters on your work desk. You will see that plant growing every day. No matter how the weather around it changes, it keeps growing. It teaches you the importance of persistence. This is what makes plants special. With modern-day planters, you can include plants without compromising on the aesthetics of your house. Want to get plants for your indoors but not sure how those will blend in with the theme of your house? Stay with us throughout the blog and we will explain to you how you can choose suitable plants for your living room.
Read More: How to Play with Colours while Decorating your Space?
Features of decorative planters
A question may come to your mind, what makes these planters special! Made from Fibre Reinforced Polymers, these planters are highly durable and weather resistant. The planters are coloured with automotive grade paints. This type of paints are highly fade resistant and can last without fading over a period of years.
The FRP material makes it possible to try out simple as well as complex designs. This is the reason why when it comes to these planters, you will be surprised by the variety of choices. Other than designs, this material allows designers to experiment with the different finishes and textures. FRP Planters offers a long range of designs, colours, textures and finishes from which you can choose your favourite planter. But how can this help in styling up your living room? Let's see each aspect one by one.
Styling up your living room
When you are decorating your living room, you have to keep in mind that a majority of your time will be spent in this room. We have discussed the function of a living room earlier. Do you have any existing design theme for your interiors? Or is it a mix and match of everything that you like? In either case, your interior should reflect you in some way. Your favourite paintings, the colour of walls & furniture, selection of decor items, everything should reflect your personality.
The same can be applied with planters as well. You can choose vibrant colours that project happiness. With this wide range of options choosing colours with which you share a connection is easy. If you love textures and rustic finishes, you can consider a series of our rustic finishes. While the traditional planters gave very less options, that's no more the case with decorative planters. No matter which design theme you opt for, you will find a planter of your choice. This can enhance the beauty of your interior while hosting your favourite plants. But how to choose your favourite plant?
Plant parenting Simplified! 
Selecting a plant can be as simple as picking up your favourite snack from the supermarket if you are a seasoned gardener. However, if you are someone who has never kept any plants before, then it can be highly confusing for you. We will give you a few tips that can help you choose a plant.
Firstly, read as much as you can. Quick research is good enough to get you started. It's normal to feel confused with the overwhelming amount of information that is available on the internet. You have to remember that you just need to have a plant in your house and you are not trying to be a botanist or developing a new crop variant. So, narrow down your research.
Think about the climatic zone in which your city/town falls. Raj in Jodhpur, Rajasthan, India can not plant something that his friend in Gothenburg, Sweden does. The climatic conditions across the world change drastically. There should be enough room for the root growth of your plants within your FRP Planters. Aspects such as humidity, rain, heat, cold & sunlight need to be considered as well. While studying plants, pay attention to their needs. For example – water, nutrients, soil (depending on drainage), sunlight etc.
Don't think too much about indoor/outdoor plant types. A lot of buzzes has been created about exclusively indoor plants that filter the air. Do you remember the science lessons from your school? If yes, then you will realize that there is nothing new with this discovery and every plant is purifying the air. We appeal to you not to fall prey to such selective marketing and avoid getting distracted at any cost.
Secondly, you have to remember that every plant is basically an outdoor plant. If you meet the growth conditions of a plant inside your house, it can grow using your stylish indoor planters. With this understanding, you will be able to think beyond the limited viewpoint of categorizing indoor/ outdoor plants. You will be able to choose from a long list of plants and experiment, which plants can grow in your surroundings.
Lastly, it's okay if a plant or two dies during your early days. With experience, you will be able to learn a few tricks that you can not understand by simply reading or watching the videos over the internet. So, don't be afraid of a new learning experience. Reading the series of our previous blogs can help you learn more about this particular topic. Take a deep dive into our series of blogs and learn as much as you can.
Why Bonasila?
We are a group of designers and plant lovers and we have been paving a way for more plants to be included in the design process. We really like the way places are transformed with the inclusion of plants. The touch of nature is something that brings in a sense of liveliness and plants are the best way to do that. With years of experience in the design industry and a fascination for plants, we choose planters as a medium to express our creativity. With the consultation of different interior designers, gardening enthusiasts and people, we came up with our range of planters. With 35 designs, 226 SKUs, 12 Matt/Gloss colours and 4 texture and 14 rustic finishes, we offer the largest range of fibre-reinforced planters. So, if you are looking for a perfect planter, it's very likely that we have it for you.
With a clientele ranging from design studios, prestigious hotels and individuals, the love & appreciation we received from our clients is unmatched. Our planters have reached 15 States and 5 countries across the globe so far. Reimagining the design spaces by consistently delivering on the commitments we are happy to bring plants closer to human beings and strengthen the connection with nature. We aspire to continue serving plant & design enthusiasts.
Transform your interiors by buying a planter from us
If you are looking forward to buying fibre reinforced planters, then we are just a phone call away. Take a walk through our gallery of planters and find a perfect one for you. You can consult with our very helpful sales team & they will help you out throughout the process. If you are an institutional buyer and have any specific requirements related to the design and sizes, then feel free to convey those to our team. We will ensure that your commercial orders get delivered on time.
Whether you are an individual or an institutional buyer, we absolutely love to see the space transformation stories with pictures. Write to us and we will get those featured in our blog. We bring the content related to plants, design and decor with this series of blogs. You can join us in the comment section. You can also follow us on our social media handles & stay updated with the latest developments.
Tags: Decorative Planters, FRP Planters, Home Decor, Indoor Flower Planters, Indoor Planters, Indoor Plants, Interior Design