Have you ever visited a dense green forest, where the trees are so tall that the sunlight can't touch the soil? Even if you haven't, it's very likely that you have seen one such forest on TV or while browsing through a magazine. Do you ever wonder if you could create a dense forest right inside your home? Well, it's absolutely possible.
There are varieties of plants that you can grow at home using large planters. In this article, we will discuss how you can recreate your own dense forest with large plants. We will talk about plants that can be grown inside or outside, using indoor/ outdoor planters. Hence, whether you are living in an apartment or in a bungalow, you can grow these plants.
Rubber Plant
Ficus Elastica, commonly known as Rubber, can be found throughout the Indian subcontinent. Although the plant is native to Asia, it is popular in other parts of the world as well. The plant can grow up to 50 to 100 feet outdoors however, the height is relatively lower when the plant is grown indoors using planters. This plant grows well in an ample amount of light, in an indirect way. It is best suited for indoor settings and can be kept outside where there is no direct sunlight. The appearance of the plant is very beautiful due to its leaf colour. The plant is resistant to water conditions and can survive the water stress for up to a week.
If you are planning to get a Rubber plant for your house, every time you take a look at it, it will remind you of some large tree. Considering the appearance and growth of the plant, we recommend our Gracili planter for Rubber Plant. Gracili is a geometric masterpiece & has a stunning visual appeal. The wide range of FRP planters allows you to select a planter that can blend well with the colours of your wall and any furniture around it!
This plant may be allergic to some people. It is recommended not to get this plant if you have a cat or dog at your home. Please pay attention to these factors before getting this plant. Wash your hands regularly after every time you touch the rubber plant. The leaves are not supposed to be consumed and may lead to vomiting or diarrhoea.
Ruffled Fan Palm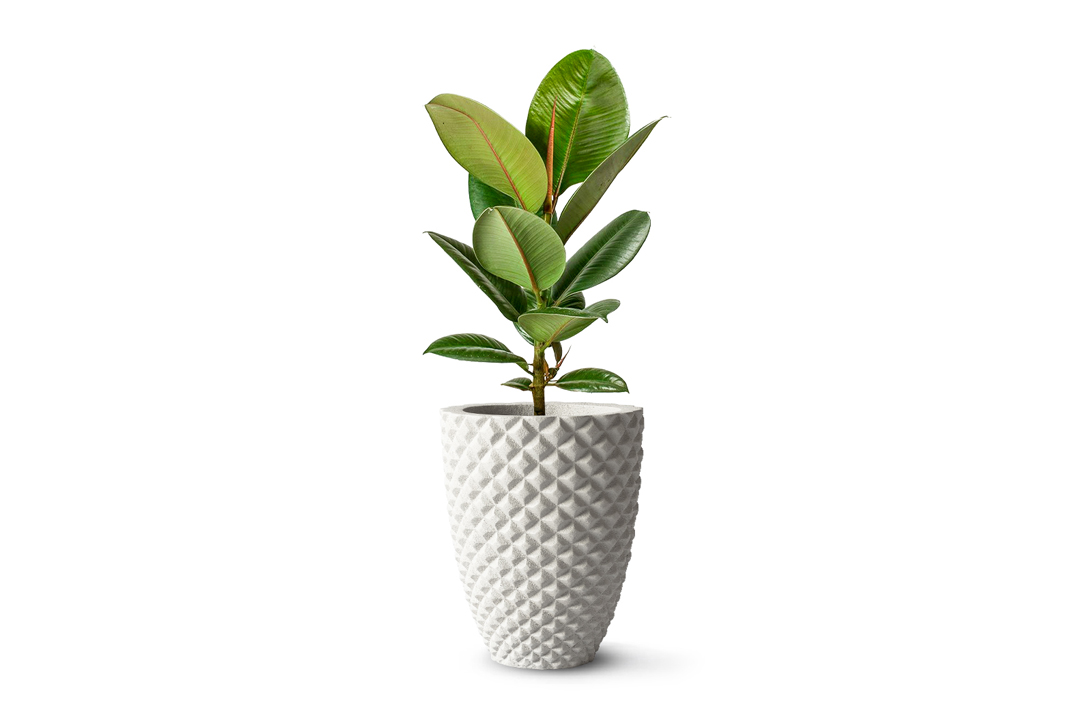 If you are a fan of the palm family, then you must have heard about the ruffled fan palm. It is a tall plant that can grow indoors. This plant prefers low to medium sunlight and can grow really well in cold temperature conditions. The plant is native to an island in Australia, however can be found in all parts of the world due to its popularity. Too much direct sunlight can affect the growth of this plant and slow eventually the plant may die due to stress. Hence, always keep the plant in shade or a place where there is either less or indirect sunlight. When grown indoors, the plant can grow up to 6 feet and bring the feel of grandeur to your house. For the outdoor settings, you may consider planting it in outdoor planters.
Read More: How to pot outdoor planters? Tips and tricks
The leaves of Ruffled Fan Palm are very sharp and thus, take special precaution while moving around this plant. Once the plant grows tall, you need to worry. The plant grows tall and its leaves resemble a handheld fan & hence the name.
Large planters are great to host this plant, however, we recommend our Conza 24D for Ruffled Fan Palm. The prismatic edges of Conza compliment the sharp straight strips of this plant and can enhance the beauty of this plant.
Fiddle Leaf Fig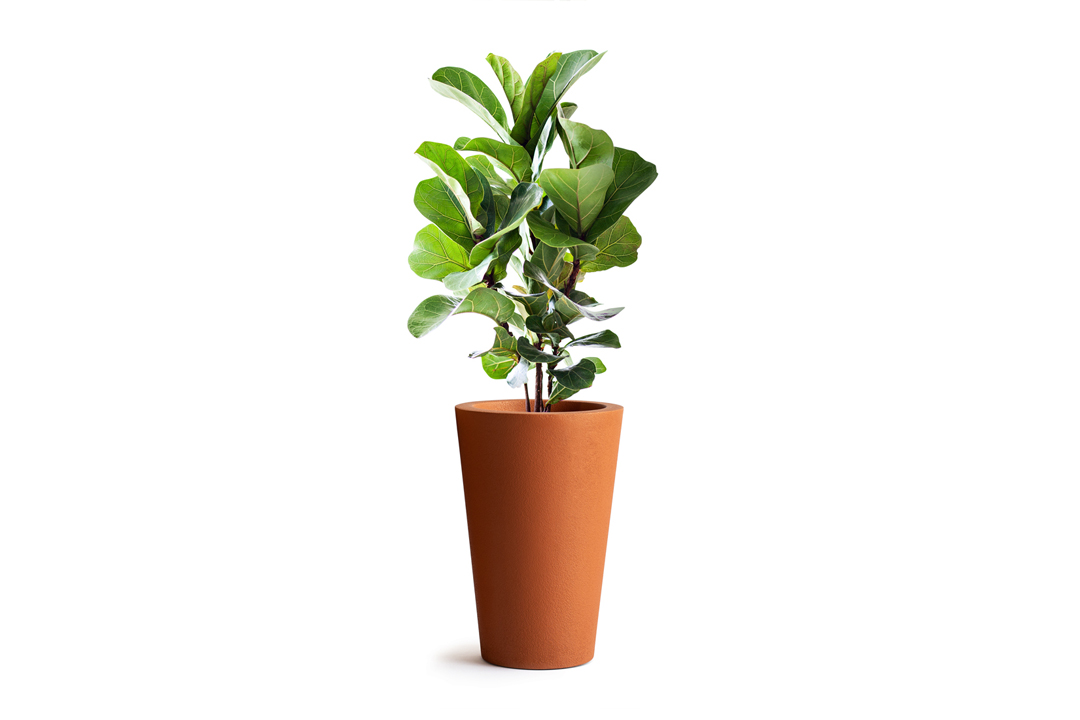 If you want an indoor plant that can outgrow your house one day, then Fiddle Leaf Fig is the one that you are looking for. This plant is native to African rainforests and makes up for the nature that you have been missing in your house.  It requires humid conditions like rainforests. It is a fast grower and the root spread increases quickly. This demands to repot the plant to make room for its roots. The plant can grow excellent in its later stages in large planters. You may consider buying a humidifier as it helps in creating the rainforest-like environment inside your house. If the conditions of bright consistent sunlight, humidity and adequate sunlight are met, then the plant can grow taller than 6 feet.
You can allow one straight branch to grow upward by pruning the side branches. Once the plant grows up to your desired height, you can cut its main branch and let the side branches grow. However, while doing this you should provide some support to the main branch with which it can balance itself.
The big rough leaves and great height are its prominent features. We recommend you pair it with our Molli planter. You can grow the plant initially in a smaller planter and once it reaches adequate size, you can think of moving it to a large-sized planter. If the weather is favourable, you may consider growing multiple figs using outdoor planters as well.
Monstera Deliciosa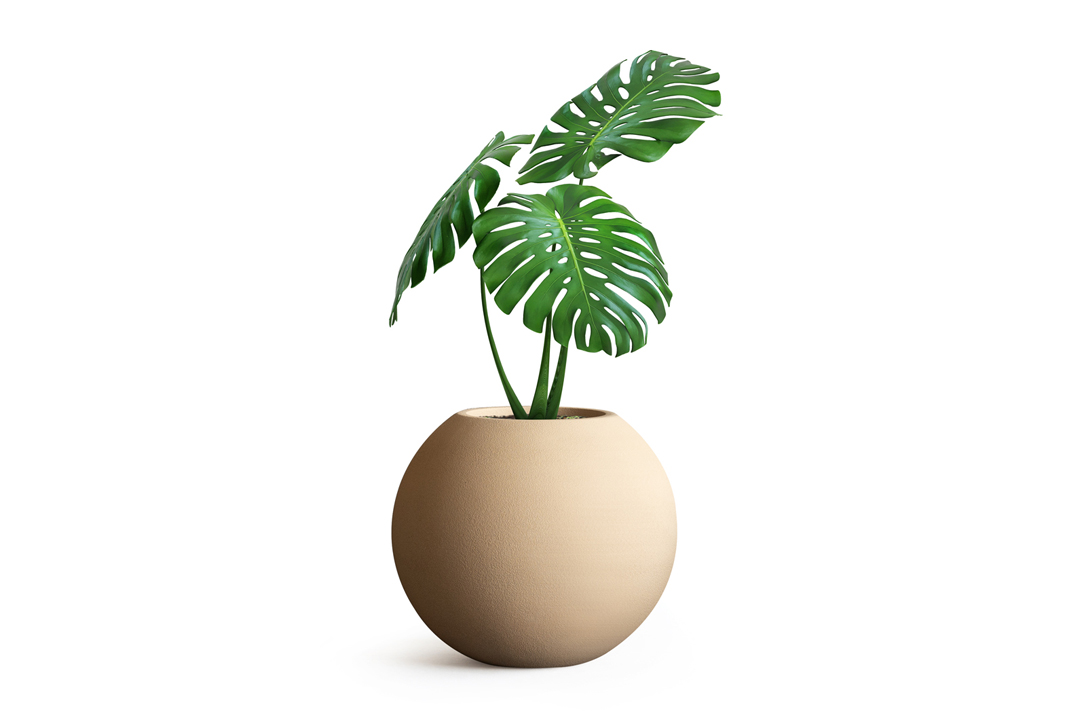 Characterized by its dramatic holes in the leaves, Monstera is the top attraction among plant enthusiasts on Instagram and social media sites. This tropical is an easy to grow houseplant. Just like Fiddle Leaf Fig, this plant also prefers indirect sunlight and humid air. Weekly watering is sufficient and overwatering may result in browning of leaves. If you are planning to grow this one outside, you can grow it using outdoor planters.
External support is a must for this plant to grow upwards. Its vining ability can be used in favour and you can get creative with the use of threads, wires to give support to this plant. With the proper care, the plant can grow more than 6 feet in height. You may consider repotting this plant into the large planters every 18 to 24 months. Considering its iconic leaf shape, we recommend our Ovalio planter for this plant.
Giant Bird of Paradise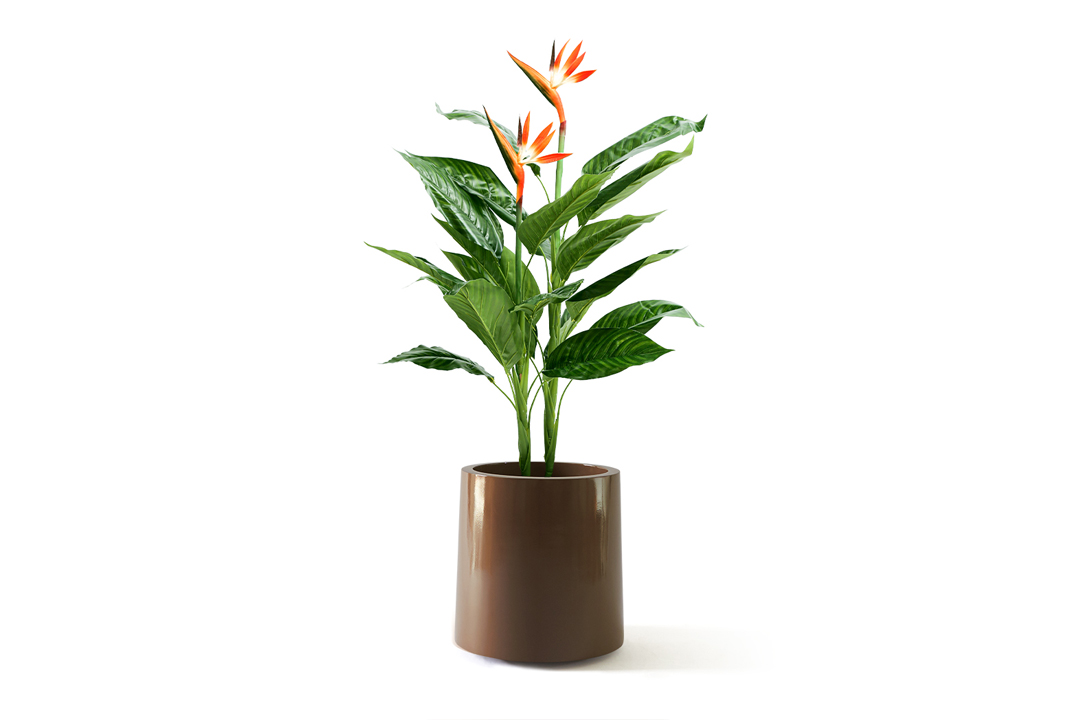 You must have seen the beautiful Bird of Paradise plant. The Giant Bird of Paradise belongs to the same family. Native to Africa, this plant is grown all over the world because of its ability to grow indoors. Its leaves are tough and large and the plant can grow up to 6 feet when grown indoors. Though the leaves of plants appear lush green, the plant is very much drought resistant. The plant is tough and can adjust well with the temperature and can be placed in a balcony or places of partial sunlight. If you are considering placing the plant inside the house, then you should place it near the window so that it can get a fair amount of light to grow. The plant prefers rich moist soil, with adequate water drainage.
The plant leaves are huge in size and grow rapidly. The overall appearance of the plant is messy. However, this is the very feature of this plant that makes a statement and can help your interior stand out from others. The dense leaves of the plant bring a feel of forest to your house. You may think of pairing this plant with our Aldero planter.
About us
We have made buying planters online India very easy. We are the company of creative people who are passionate about plants. This led us to create astonishingly beautiful planters. We reimagined the way spaces are designed and the plants are included in the design of spaces. The love and appreciation that we receive for our planters from all across the world is a testament to the quality and aesthetic beauty of our FRP planters.
Something about our planters
We at Bonasila manufacture designer garden planters that can let you include the plants in the design of your spaces. Right from designing, to manufacturing, we do everything in house. This is a reason why we are able to deliver the planters of the quality that we promise. Every planter that comes out of our production facility is handcrafted with the love by our artisans. We have a variety of colour options that can project happiness and induce good vibes at your home. We offer the largest collection of FRP planters with a variety of colours, textures and finishes. So, if you are looking for a perfect planter, it is very likely that we have it. All you need to do is take a look.
Want to Plant Happiness? We are a call away!
If you have found your perfect planter, then getting it delivered to your doorstep is our responsibility. You will be amazed to know that we have delivered our planters to more than 15 states and 5 countries so far, and we are just starting. With excellent support from our shipping partners, we ensure that our elegant planters are delivered to you safely. To buy planters online India, you can simply place your order from our website. If you think that you need assistance in placing your order, just give us a call on 92650 77632 & we will be there to help you out. If you have any specific requirements with your order that you want to share with us, you can do it through the enquiry form. If you are an institutional buyer and have expectations with colours, sizes and finishes, We would surely like to listen and help you out.