Without a doubt, the bedroom is the most important part of the house. With our lives becoming busier than ever before, the need for quality sleep has become more of a priority.
Along with improving your concentration and productivity, resting well has always been beneficial to the mental health, immune system and even in maintaining your weight. Creating a cosy environment that helps you sleep peacefully is important. This junction of beautiful and functional patterns and designs, i.e your bedroom decor should give you a wonderful feeling as and when you hit the bed or get up from the bed to start your day. So, we at Bonasila present to you a unique list of 10 dark bedroom ideas for the classic vibe. These dark bedroom ideas promise to bring restful and cozy to dramatic and bold feels along. These ideas have one thing in common i.e. they are proof that your bedrooms can be the best of all spaces to experiment with dark colours.
Absolute Dark
Instead of just getting dark hues all over the walls, try to blend it with other spaces in the room too. Be it ceiling, for a cosy cocooning look especially for small bedrooms or the furniture for a chic look. Pick a dark shade but also combine it with a soft green colour so that it doesn't look too much. Additionally, also add some elegant accessories preferably light in colour to add a perfect style statement to give a perfect vibe lift to the room. You can go for a simple abstract painting, some scented candles, a tabletop planter, and a hanging bulb. With light coloured bed sheets it will give a perfect contrast look.
Colours amidst dark walls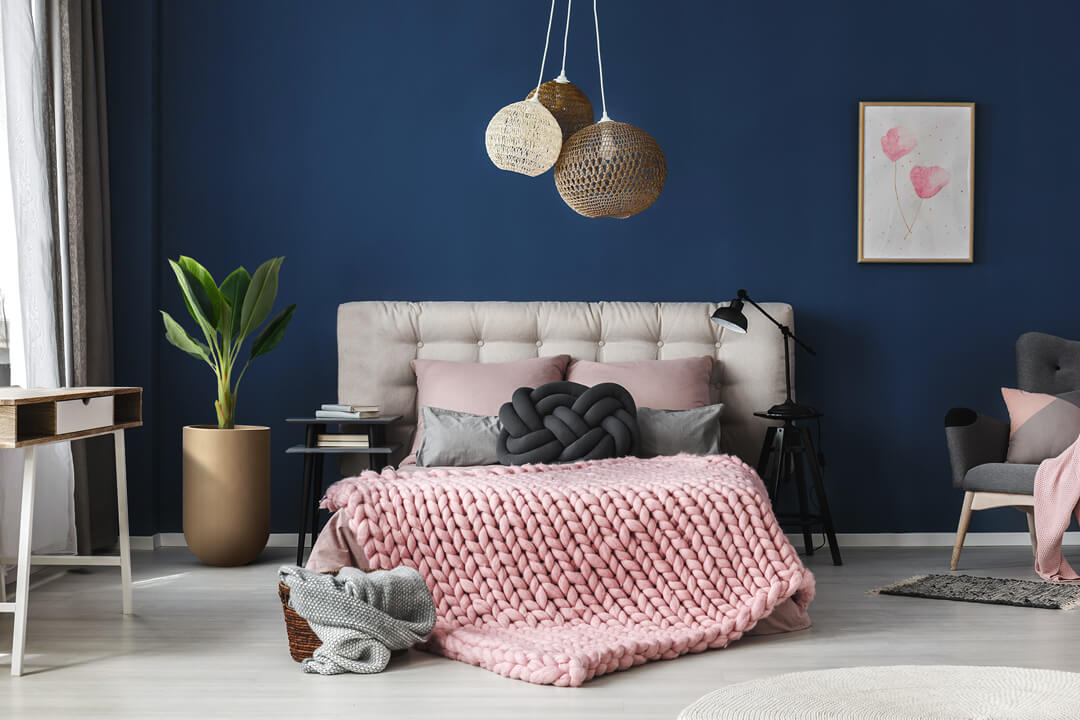 Pastel colour pops more when put against dark walls than white walls. So, in your dark bedroom, you can give a colourful update with the help of pastel hues with bright shades. With a dark blue wall, hanging lights, traditional table light, study table, designer planters and some books with cute pastel pink sheets, your room decor will have an elegant look. The idea to create such bedroom decor is to have an ideal balance between a sophisticated and fun colour scheme.
Deep Hues with Soft hues
Are you an admirer of simplicity? Not too many colours, but just a neat look for your room? Then this can be your thing. A neutral bedroom, just like this space. This one tells you that not all dark bedrooms have to be super dramatic. You can always opt to tone it down with whites. Pair your turquoise coloured walls with lots of wooden elements and soft whites. Such neutral colours and decor elements will give the room a lively lift though making it look very simple. You can also go for a fancy side shelf along with small indoor plant pots popped on the top and a large planter on the side too. This will make you feel close to nature too.
White/Grey Floor with dark contrasting walls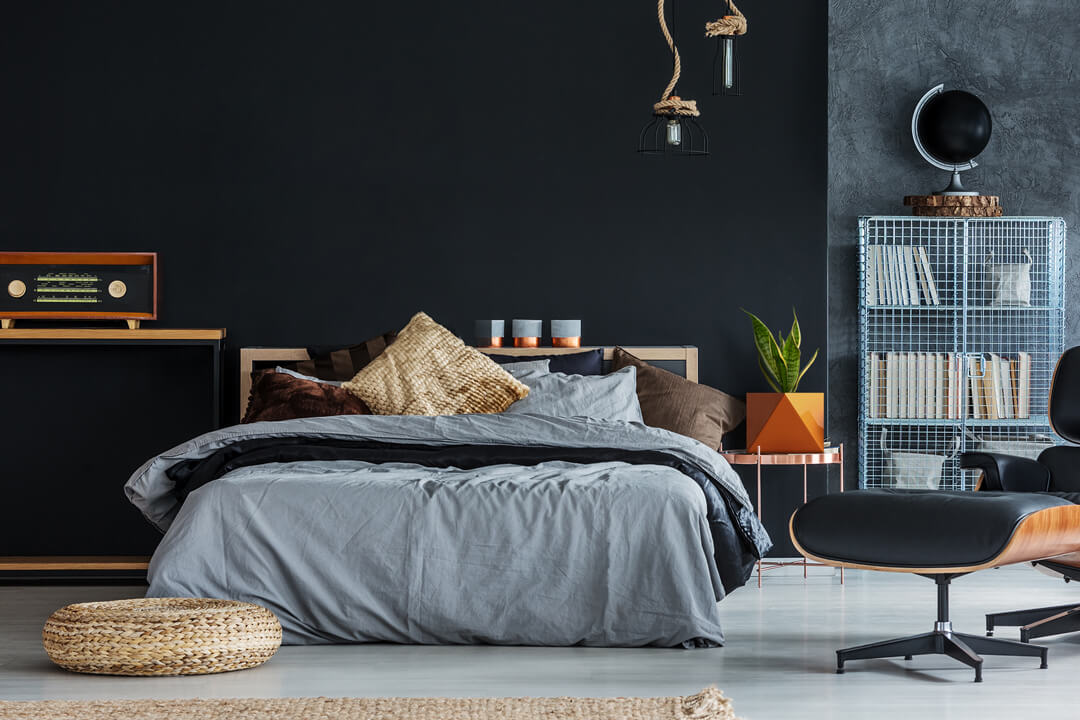 If you love wooden floors but want to give a lighter look to your floor because of the dark walls, you can get them painted white/ grey. It will give a mesmerising contrasting look. Get a warm and cocooning feeling with the help of bold colour palettes used on the walls and bold covers and sheets. The lighter floors will create a necessary balance along with light coloured decor pieces.
Soften the bedroom with Geometric Figures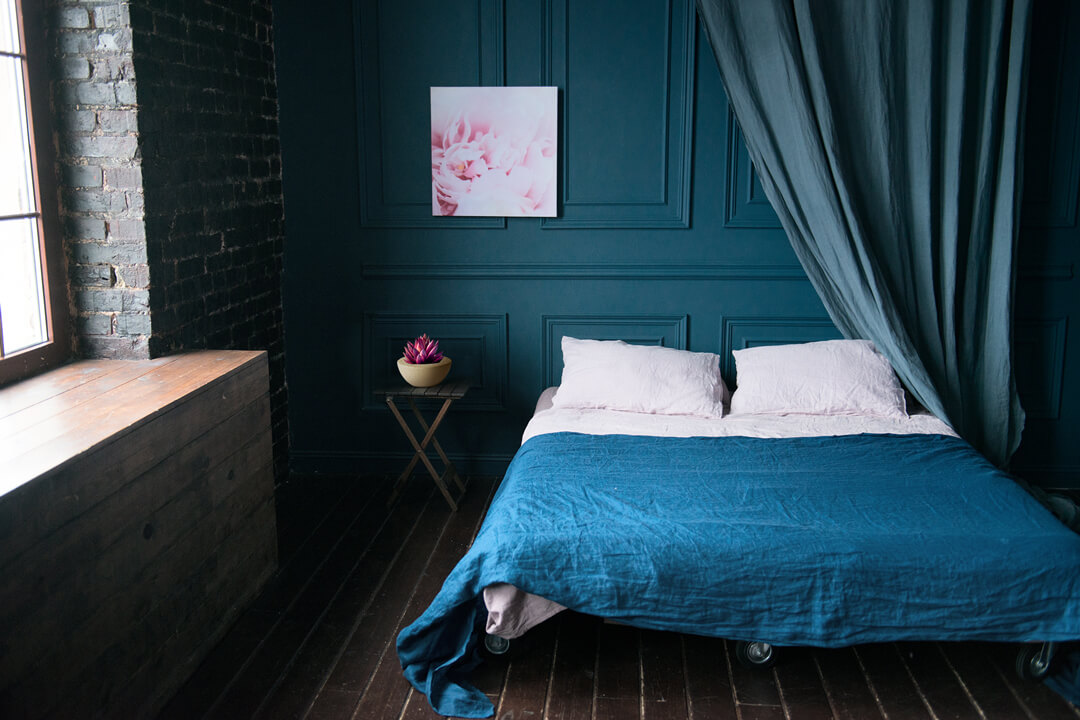 If you want something really classy and unusual on your walls, then you can go for geometric figures, for example, a rectangular pattern or maybe just circles. Get them painted with dark colours to give the space depth and an intense touch. You can opt for minimal bedroom decor in the room. Go for a simple painting, a tabletop planter and some curtains around your bed. Try to keep the colours of the sheets the same. Although a combination of blue and white would look great too.
Playing with paint effect on walls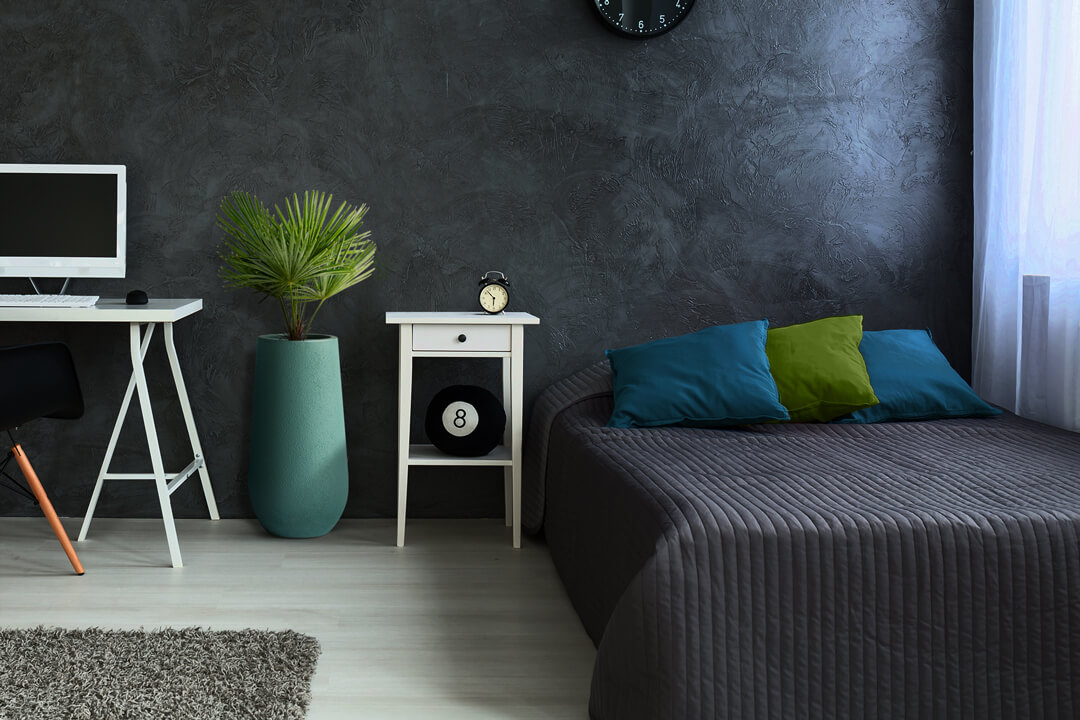 Instead of drowning the whole room in darkness, you can just go for a playful dark paint effect on the wall. This will create an elegant look. Such layers of paints are very trendy and also give a unique decayed look. Further, your bedroom decor can never go wrong with the whites, so you can go for white furniture, white curtains and a white floor. Although, you can keep other colour options open for your bedding.
Pieces Centric Room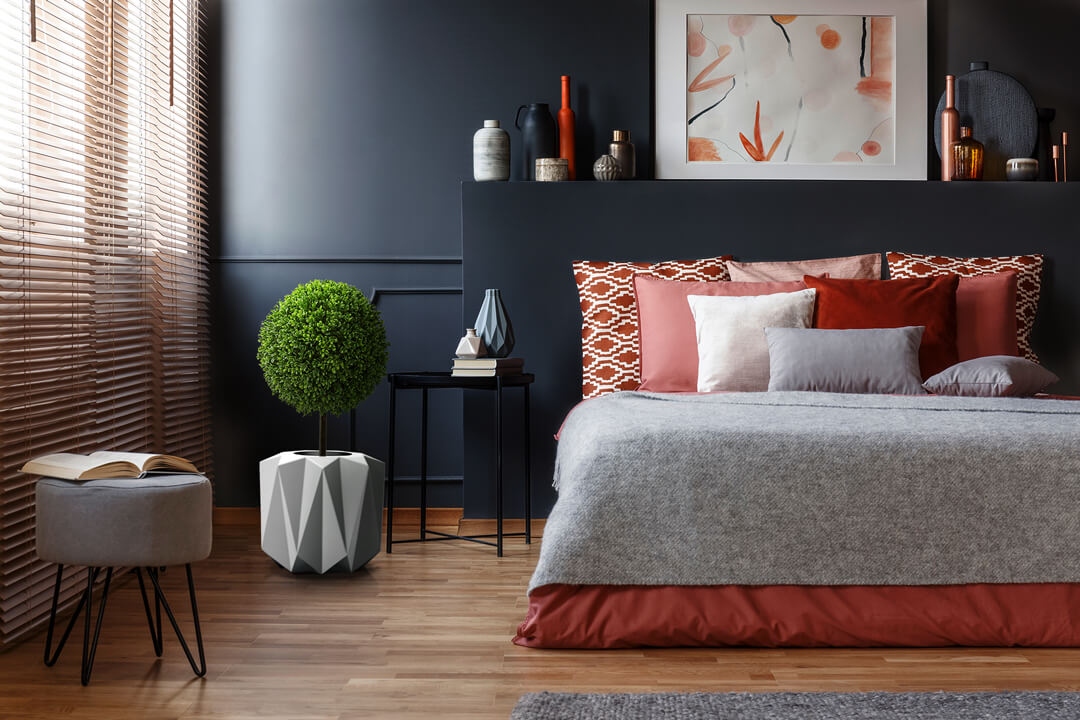 In this case, you can go for dark grey or black bedrooms. You can decorate the room with showpieces to express your imaginative self. Ornate your place with lots of books, bottle collections, photo frames etc. You can also arrange multiple pillows of different sizes for a wholesome experience. To bring more peace, positivity and motivation around your space, you can also bring in some plants and plant them in designer planters for an exceptional look.
Pink and Purple Combination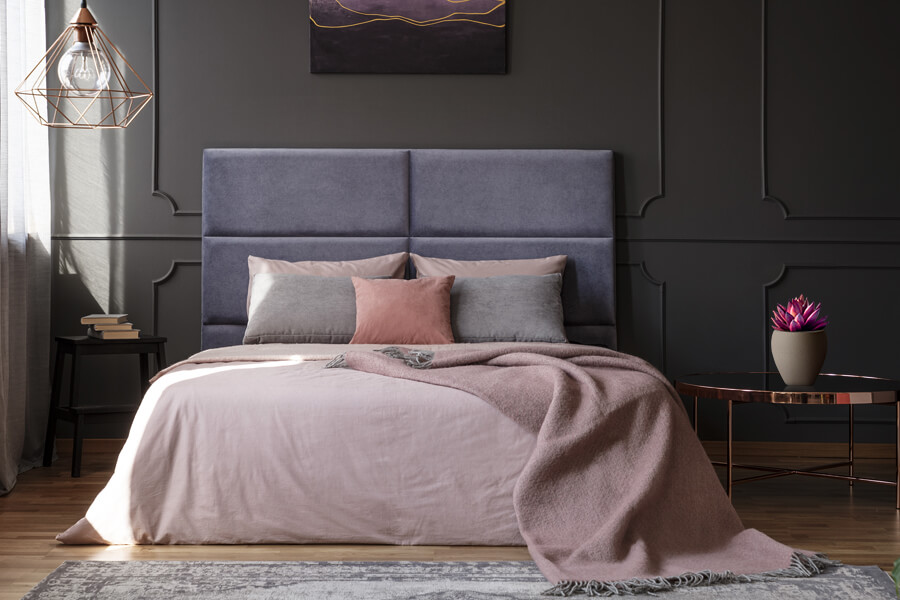 This colour combination is a magnificent pair. If you do not like loud colours too much, then you can simply pair up dark purple with pink. For the backdrop, you can go for grey. The pink sheets on your bed will give a pleasant upliftment to the vibe. You can also place 2-3 vintage decor pieces or an FRP Planter around.
Shades of Blue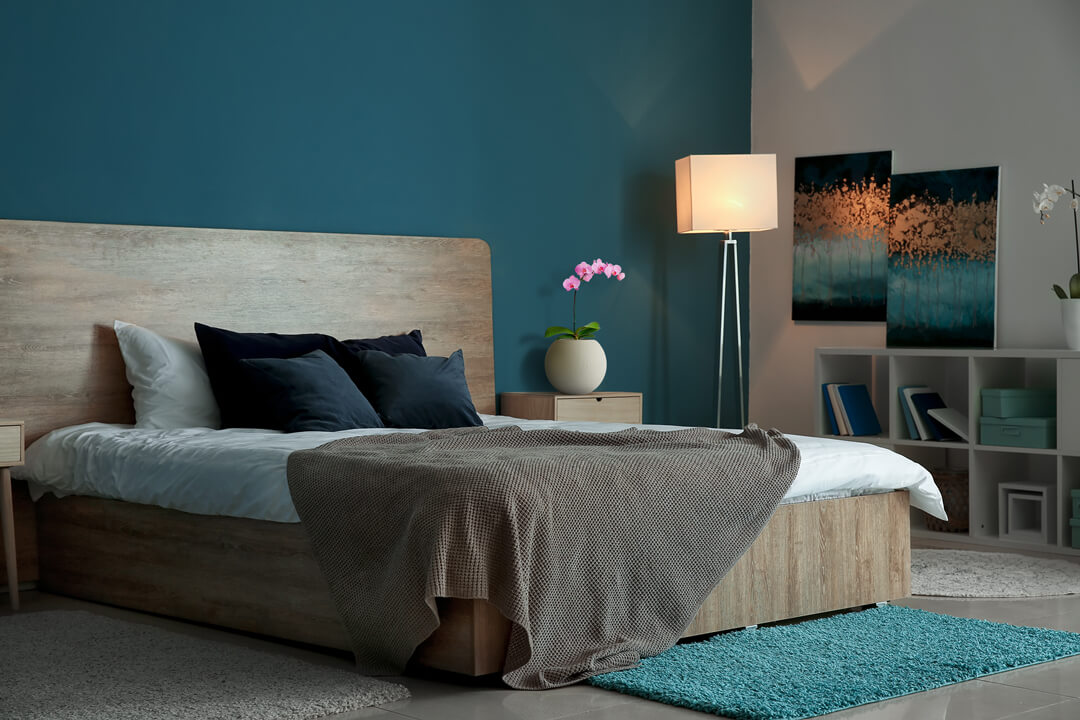 The blue colour gives a serene vibe. It is very pleasing to the eyes and also the soul. You can go for different shades of blues for your room if you happen to be an admirer of scenic feels. Your main wall can be dark blue, the complimenting wall can be of a lighter shade and so can be your bedsheets, pillow covers, floor mats etc. Make it lively with a tall lamp and some scenic paintings.
Simplicity at its best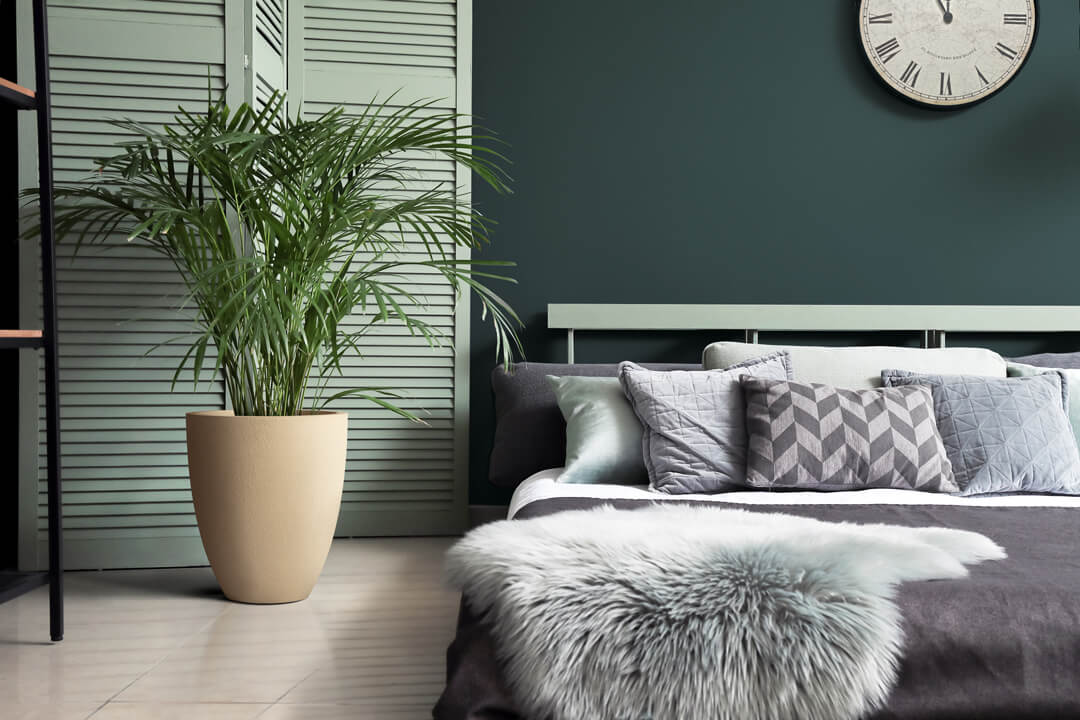 If you like more of a spacious room, with fewer decor pieces, just a simple wall and your bedding, then this one can be your go-to option. Get a dark greenish-blue shade done on your main wall. Get purple-white sheets and a large planter by your side to wake up to bliss. You can get such home planters online with Bonasila. A large vintage style wall clock would also look super cool.
With this blog, we want to convey the message of how dark colours also appear beautiful if used properly for your bedrooms. We generally opt for light shades, but without experimenting with the darks, how will we know how mesmerising they can make our space look! We hope that you find this blog useful and enjoyed reading it. Do let us know about your personal favourite style in the comments.